How does MultiBel improve the Fire Notification process?
By linking your fire alarm control panel or fire alarm installation with MultiBel, emergency services or evacuation will be initiated more quickly in the event of a fire alarm. If a fire detector indicates a fire, an alarm is automatically sent to the (present) Emergency Response Officers, manager, internal fire brigade, evacuators, management or crisis team. This NEN-EN 54 certified fire alarm ensures that the fire can be verified faster, evacuations are initiated faster and damage is limited. MultiBel can also be used as a NEN2575-4 silent alarm certified evacuation system. This is, in the Netherlands a requirement in for instance hospitals, nursing homes and care homes.
The power of the MultiBel Fire Notification System
Fire alarm system sends emergency alerts
For the company, the insurer and the government (fire brigade), linking your fire alarm system with MultiBel means a reduction in damage. After all, it is precisely the first minutes of a fire that are crucial to intervene.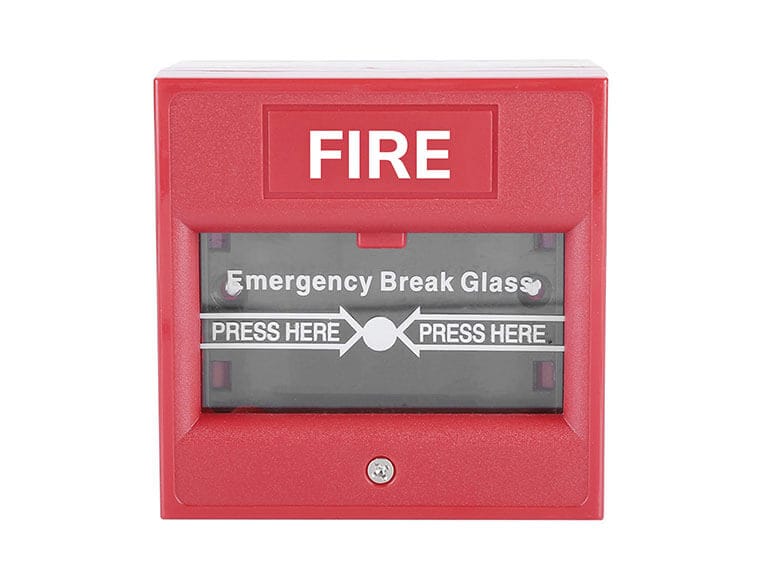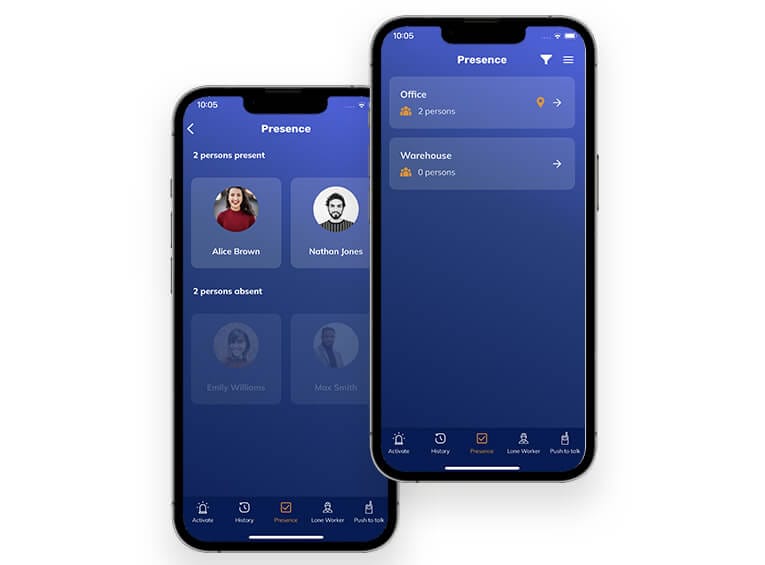 Fire notification system works with presence registration
With MultiBel you also immediately have automatic presence registration. If your fire alarm system generates an fire notification, you can choose to alert only those people who are present at the location or to send a fire alert to everyone. You can also be automatically alerted in the event of understaffing per location and function.
Communication in case of fire
With the communication module, all parties involved can communicate directly with each other after the fire alarm. This can be done via the walkie-talkie function of the app and / or conference call. Everyone receives the fire alarm message and can then immediately coordinate with each other, ideal for the crisis team, company fire department or the emergency response officers. This creates a common image much faster.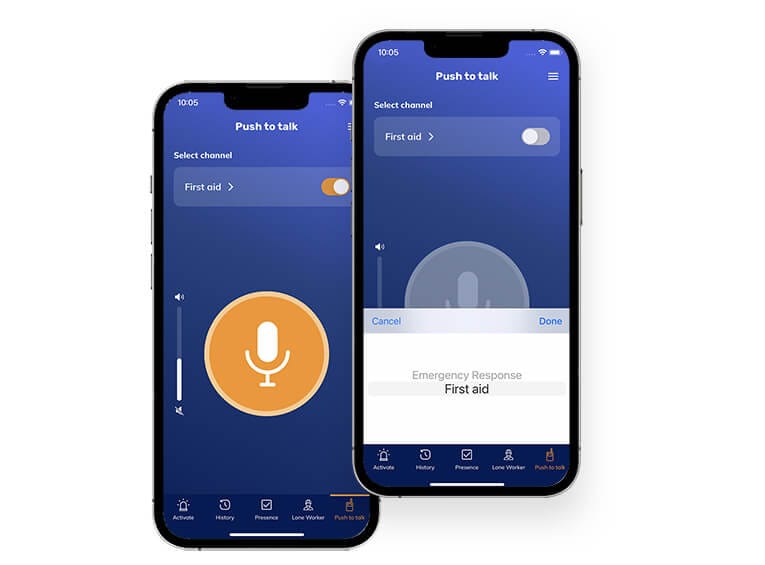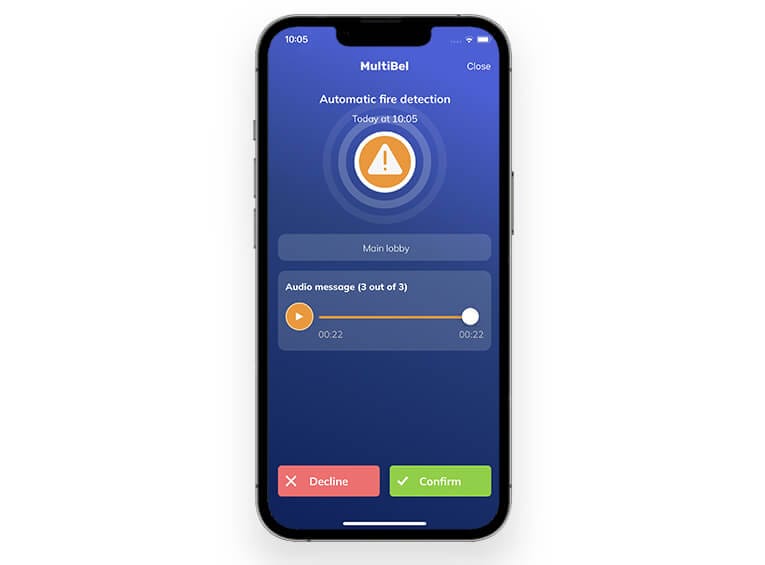 NEN-certificate & monitoring
Hardware is required to connect MultiBel to your fire panel. This IP detector is NEN-EN 54 certified and works with the SIA protocol and ESPA 4.4.4 alarm protocol. This makes sure that you can send an fire notification with the exact location of the fire. The IP detector is connected to MultiBel via your network connection with a SIM card with mobile data as a backup. The connection is monitored 24/7.
You can also go a step further and use MultiBel as a NEN2575-4 silent alarm evacuation system. The alarms then take place via the smartphones, as a replacement for the pagers and support transmitters.
Evacuation system with NEN2575-4
You can also go one step further and use MultiBel as a "NEN2575-4 evacuation system". With the WSAS certification that MultiBel has it can be implemented as a "silent alarm system" in for instance hospitals and care homes. The alerting takes place via the smartphones, as a replacement for the pager.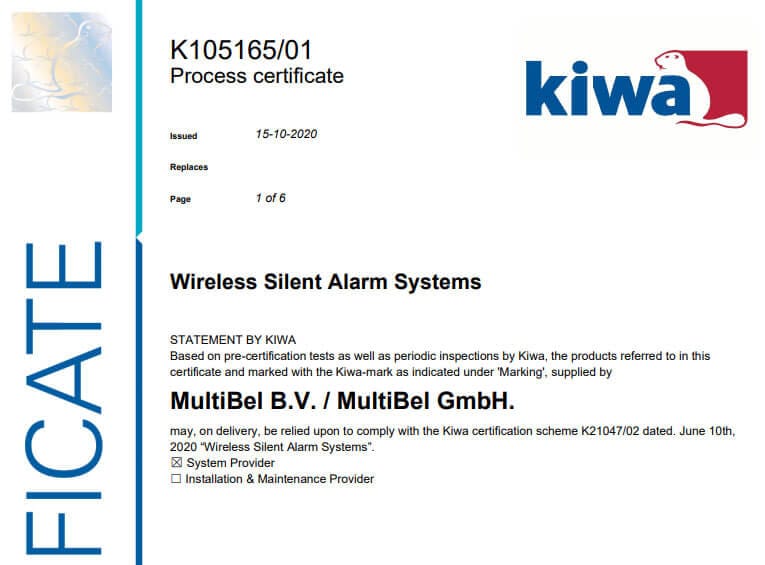 Fire Notification System with five-fold certainty
MultiBel different channels to alert the right people in the event of a fire. The way in which someone can be reached differs per person but also per moment. The more channels you use, the greater the chance that the person will be reached quickly, including breaking the silent mode of your mobile phone. When your fire alarm system is linked, an alarm is first sent via the app, there is no response, MultiBel automatically switches to spoken messages to a maximum of 10 telephone numbers per person, we send an email and a text message. Until enough people confirm the fire notification. In addition, MultiBel can also reach pagers if necessary.
MultiBel Professional works with predefined scenarios. A raging fire in a large organization requires action by a different group of people and different instructions than a small fire in the bicycle shed. You can create unlimited scenarios, functions and locations. Each group hears and reads the instructions associated with his or her role.
Choose the right package for you
Send alerts for FREE with MultiBel Standard or choose MultiBel Professional.
Interested in MultiBel fire notification in order to improve your process? Contact us.
Schedule an (online) appointment for free advice or a demo of our fire notification system and check whether your fire alarm panel can be connected to MultiBel.
Olivier Nieland,
Sales Consultant MultiBel

The reliability is higher than the pager system.
Notifications from the Fire Alarm Panel are automatically forwarded to the Emergency Response Officers.
Since February 2019 we have been using the Multibel app at Efectis. In addition to a manual alarm via a tablet at the reception, we also opted for automatic alarm in the event of a fire and the use of the emergency buttons in our fire lab via the IP detector. We have defined different groups in Multibel (first aid, first aid, breathing apparatus and crisis team), so that we can call on the right people at any time.
We recently switched to MultiBel and this to our complete satisfaction!
MultiBel is a very clear and user-friendly system. It was actually clear to me very quickly how the system works and how it should be set up.
MultiBel still meets our expectations, a good product with good support and good implementation. Elements such as the test modes indicate that the application of the product and its users has been carefully considered.
I know MultiBel as a great application that can be used to quickly alert the first responders in the company. It is also really good that in the event of an alarm, the available information about the person is spoken and then also sent directly. MultiBel offers a very practical solution that is really recommended!
Excellent and reliable calling system. company with good service and adequate support.
As a safety engineer, I can highly recommend the Multibel system because it is suitable for a variety of application areas. These range from the safe organization of the sole workstation, to first aid and fire protection, right through to house technology. Thanks to the flexible modular system, every company can find it across industries individually fitting product. The users like the uncomplicated and well-functioning technology. If necessary, support from the competent and friendly staff is guaranteed at all times!
Multibel provides a service that can not be compared to the current old-fashioned call systems with pagers. Because the fire panel is linked to the app, the employees can be alerted much more quickly. Multibel is essential for safety in our healthcare institution.
Simple, fast and safe alarm solution! The alarm app works really well.
The MultiBel system is very flexible and can be used individually for various purposes or in a wide variety of industries. Commissioning and cooperation with the service provider work smoothly and reliably. Conclusion: an absolute added value for every company or institution.
We inquired at various municipalities and MultiBel was mentioned there. In addition, your solution is quickly deployable and with a SAAS solution we can also set up a lot ourselves, which certainly appealed to me. In addition, it also just works very well.
The advantage of a smartphone solution compared to a traditional pager system to find the right person is countless. An inspection often showed that pagers were not used, were lost or were broken. You always have the smartphone solution from MultiBel with you. Moreover, you are not dependent on one transmitter and with this Cloud solution a much higher availability of the system is realized than with a traditional system.
At one point we only had 6 or 7 pagers and we now have 34 smartphones. That's a huge fire safety upgrade.
The new wireless silent alarm system is a real relief for us in our daily work. No more hassle with multiple devices and therefore more focus on what really matters to us: a safe home for our residents.
MultiBel is a professional software supplier, with short communication lines that makes it possible to act quick. Their evacuation alarm solution perfectly matched our needs and could easily be set up and adapted to our requirements and wishes. They continuously think along in solutions and have all the expertise in-house to quickly implement desired adjustments. As a result, we were able to implement the system in a short time and get it successfully certified.
Thanks to a number of built-in controls, the app is much more reliable than the pagers we used before. The new solution provides more certainty that our company emergency organization can act quickly.
It will soon be a very big advantage if the evacuation system is linked to the nurse call system and the emergency response team. You can mobilize everyone much faster. With a cloud solution it is easy that you no longer have pagers, no more walkie-talkies and that you have no necesity to controls this additional hardware.
The system is NEN 2575-4 and ISO'IEC 27001 certified and therefore offers real opportunities in various places where speed and a reliable system are essential if something goes wrong. Think of hospitals, municipalities or industry.
The entire process promoted fire safety.
❮
❯
Connecting a fire alarm panel for fire notification
In the event of a fire alarm, your emergency response officers are the first to rush to the fire alarm panel. Once there, the location of the fire is identified. That process can be done faster. By linking your fire alarm panel to MultiBel, you can handle emergency response fire alarms faster. An IP alarm transmitter is often used to link the fire panel to the MultiBel Cloud platform. But what should you take into account when connecting the fire alarm panel?
How do you know which hardware is suitable?
Which IP alarm transmitter should I have for emergency response fire alarms? And it is then linked on the basis of the SIA protocol or on the basis of ESPA 4.4.4. protocol? First, the type of fire alarm panel will be looked at. Then whether it is suitable for the ESPA 4.4.4. protocol. The difference between ESPA and SIA is that with the SIA protocol, a connection is made for each reporter in the building on a contact basis. With the ESPA protocol, only 1 connection is made and the correct location is immediately sent by the ESPA protocol.
How do I ensure the redundancy of the IP alarm transmitter?
Redundancy is an important concept within MultiBel. Our customers are not dependent on one channel. Back-up is also available at fire alarms. For example, the IP alarm transmitter is equipped with an emergency power supply. The IP alarm transmitter is connected to your organization's Ethernet. In the event of a fire, the own infrastructure is often the first to be out of service. That is why the IP alarm transmitter is also equipped with a multi-SIM card. As a result, the reporter is also connected to various providers in the Netherlands. And the detector can still initiate a fire alarm.
Does monitoring take place?
If your IP alarm transmitter is not working, no emergency response fire alarms will be sent. Monitoring is therefore essential. MultiBel sets up a few malfunction alarms as standard. The moment the IP alarm transmitter detects a malfunction, an alarm will be started automatically. This way you immediately know what is going on and you can solve the problem.
Certification
Are you going to link your fire alarm panel? Always check whether there is a NEN EN 54-21 certification. This way you know that the performance level of the IP alarm transmitter meets the European standard. This includes looking at transmission time, transmission monitoring and system availability.
Fire notification with an app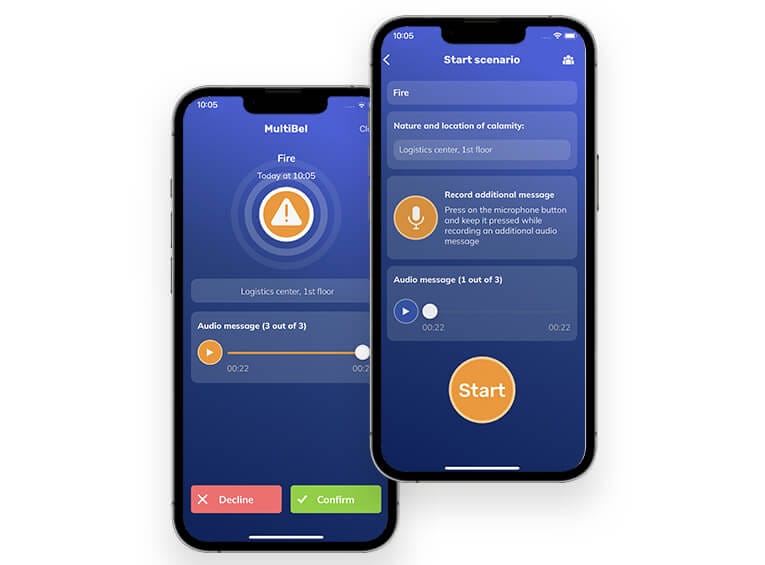 How do I assess the quality of a fire alarm app?
There are several apps for emergency response fire alarms. But how can you rate apps on their quality? We give you a few checking points with which you can assess the quality of an fire alarm app. Which certificates are available for an app and what does the availability say about a system?
SaaS versus pager
In the past, pagers were often used for emergency situations like a fire. The pager now looses popularity. Fire notification systems with an fire alarm app are increasingly being used. MultiBel is a Software as a Service (SaaS), or an online service. This makes purchasing hardware unnecessary. Curious about what other benefits a SaaS has to offer?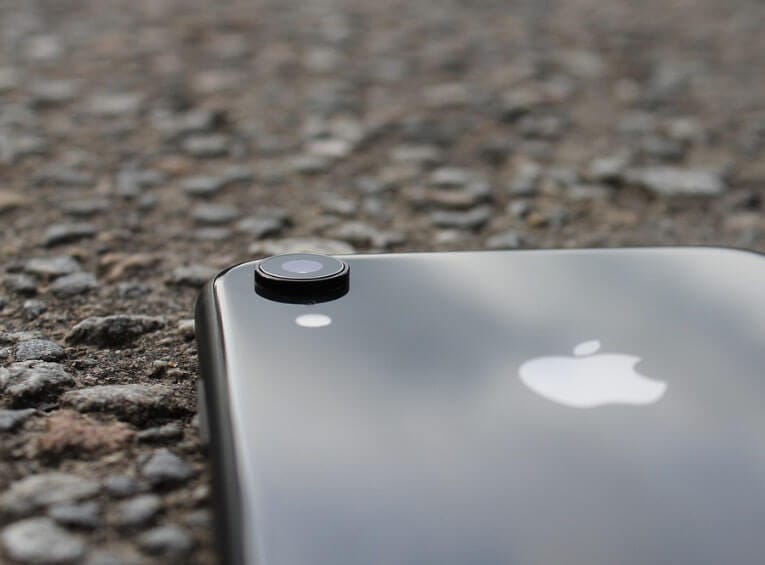 Searching for the best fire notification system?
With the fire alarm app from MultiBel you are able to send an emergency alert ten, hundreds or even thousands of people simultaneously. You can then analyze the responses in real time in MultiBel and coordinate follow-up steps. A good fire alarm system saves time and limits damage. MultiBel ensures that your employees react correctly in the event of a fire in the workplace. MultiBel helps to ensure that your employees remain calm and do not panic.
Linking fire alarm panels is nothing new for MultiBel. These links have already been made in various sectors. From healthcare to industries and from schools to municipalities. Many organizations are already using the fire detector with a fire alarm app.
Customers have been choosing MultiBel for more than 20 years because of the simplicity, reliability and technical possibilities of the system. More than 1,000 customers also choose our fire alarm app because it is a solution that runs in secure data centers. It is therefore also available if your own infrastructure no longer functions due to a fire.