Call for help with an emergency / panic button
There are many different versions of an emergency button or panic button. In the past, our customers often opted for a separate button, both portable and permanently mounted. This remains the desired solution for certain industries. However, there are also many employees who have customer contact that would potentially be confronted with aggression, but who do not want to walk around with an extra emergency button all day long. For this customer group MultiBel offers an alarm button as part of our lone worker system.
Ambulatory employees, people at the reception, civil servants or teachers at schools, all examples of people who unfortunately sometimes need an emergency button to quickly call for help in case of aggressive behavior. The main question is what happens when someone pushes an alarm button? A report to a private emergency center, surrounding companies or would you prefer an immediate alarm message to colleagues in the area? The big advantage of our emergency button is that it is integrated in a Kiwa certified emergency notification system. All safety solutions in one system. Notifying the emergency response team because of an accident or in case of evacuations, personal emergency buttons, man down security, walkie-talkie, logging, everything in MultiBel to guarantee quick follow-up and to minimalize damage.
What are the considerations for the right emergency button?
How to activate lone worker protection?
MultiBel offers four different forms of lone worker protection. If the administrator allows this, a user can determine how and for how long the protection is on. A periodic check message, fall detection, non-movement or the emergency button. Parameters such as G-forces and time intervals are individually adjustable.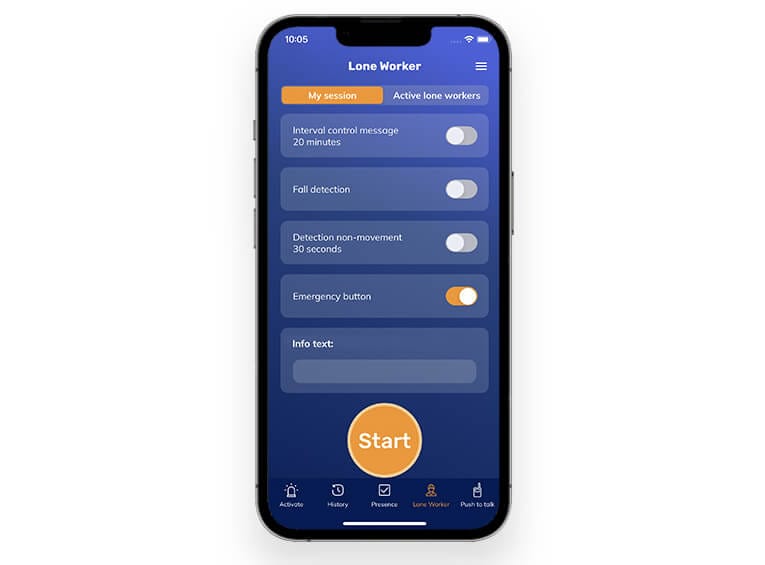 How to activate the panic button?
The most common way to start an aggression alarm is via an external bluetooth emergency button from for instance Flic. It can be worn and operated invisibly in various ways. Another option is to use the emergency button on the Samsung XCover or the alarm button in the app itself.
Who receives the alert after activating the panic button?
Colleagues receive the location of the colleague in need and can confirm or reject their arrival. By means of the attendance registration, MultiBel knows which colleagues can help quickly. A listening or speaking/listening connection is available to quickly assess the situation. An escalation to our Private Alarm Center is possible. Emergency workers can communicate with each other via the push to talk app and thus coordinate actions.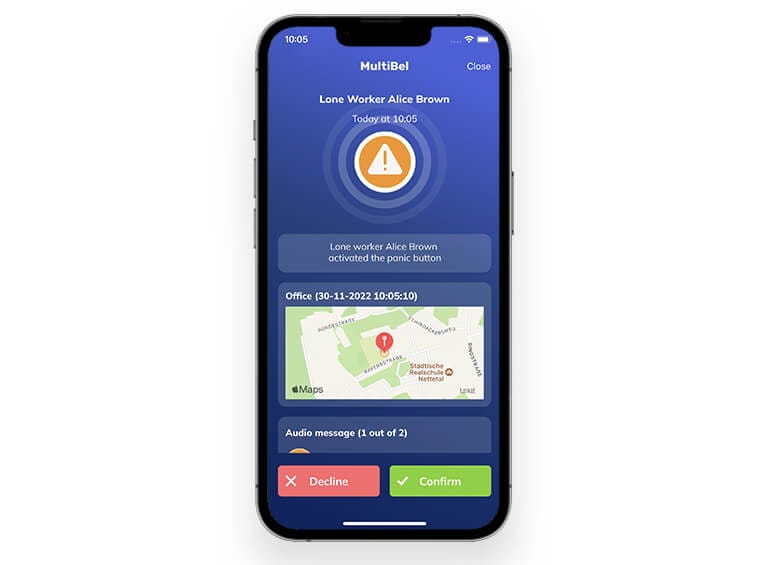 More control on the situation
Without management tools or without monitoring, you still have no insight into the alarms and the use of an emergency button. MultiBel offers a dashboard in which you can follow an emergency button alert in real time. We also offer an extensive reporting tool. Here you can see who has started an emergency notification in the past, but also who is using the security module at that specific moment.
Emergency button / panic button follow-up procedure
MultiBel is a Kiwa certified calling system with a very reliable method. During the alarm, MultiBel can use many different channels. The way in which someone can be reached differs per person but also per moment. The more channels you use for the alert, the greater the chance that that person will be reached. The app breaks the silent mode in iOS and Android.
MultiBel works with predefined scenarios. You can set an unlimited number of scenarios and locations. The order of the communication channels can also be set.
Choose the right package for you
Send alerts for FREE with MultiBel Standard or choose MultiBel Professional.
Interested in a demo of our panic button / emergency button?
Schedule an (online) appointment for free advice or a demo of our emergency notification system with an alarm button.
Olivier Nieland,
Sales Consultant MultiBel

We use MultiBel for the Emergency Response Team and the Crisis Team. The system can be armed by pressing an emergency button, by activating the fire alarm, or by reporting a calamity at the reception.
The implementation of MultiBel went well. A clear explanation has been given on site and the system has been delivered in good working order. The people who are called up have independently installed the app using the manual. If necessary, the Helpdesk is easily accessible.
MultiBel still meets our expectations, a good product with good support and good implementation. Elements such as the test modes indicate that the application of the product and its users has been carefully considered.
Since February 2019 we have been using the Multibel app at Efectis. In addition to a manual alarm via a tablet at the reception, we also opted for automatic alarm in the event of a fire and the use of the emergency buttons in our fire lab via the IP detector. We have defined different groups in Multibel (first aid, breathing apparatus and crisis team), so that we can call on the right people at any time.
We also have to deal with empowered residents at the municipality and that sometimes escalates. Especially because we as a municipality have been given extra tasks such as the 'Wet Maatschappelijke Ondersteuning' (WMO) ' 'Social Support Act'. As a result, it sometimes happened that there was aggression at the desk and consultation rooms, but we did not have a suitable solution for calling people on.
After seeing an extensive demo, the MultiBel account manager reserved time to thoroughly discuss our situation. This made MultiBel our preferred supplier already. Certainly after we compared the quotation with that of some competitors. Our choice was quickly made.
Various relationships asked us how they could simplify and improve communication during an emergency response deployment. It was also important to different scenarios to work. Multibel provided a perfect solution. Our consultants linked the evacuation and emergency plans with the technical infrastructure. By so as partners working together we deliver value to all our customers.
The 'MultiBel' system is very flexible and can be used individually for various purposes or in a wide variety of industries. Commissioning and cooperation with the service provider work smoothly and reliably. Conclusion: an absolute added value for every company ' institution!
We have been using MultiBel at our school for some time. Due to increasing violence, we have therefore introduced Multibel as an alarm solution for terrorist attacks and rampages. The well-designed alarm system convinced us. Let's hope we never have to use it for that - but we're definitely prepared for emergencies and have a good feeling of getting help quickly.
❮
❯
What makes our emergency button special?
Our emergency button is part of a full-fledged paging system / emergency notification system. User-friendly, available, break through silent mode, link fire alarm panel, safety of lone workers. We would like to explain what MultiBel offers for the protecting your employees.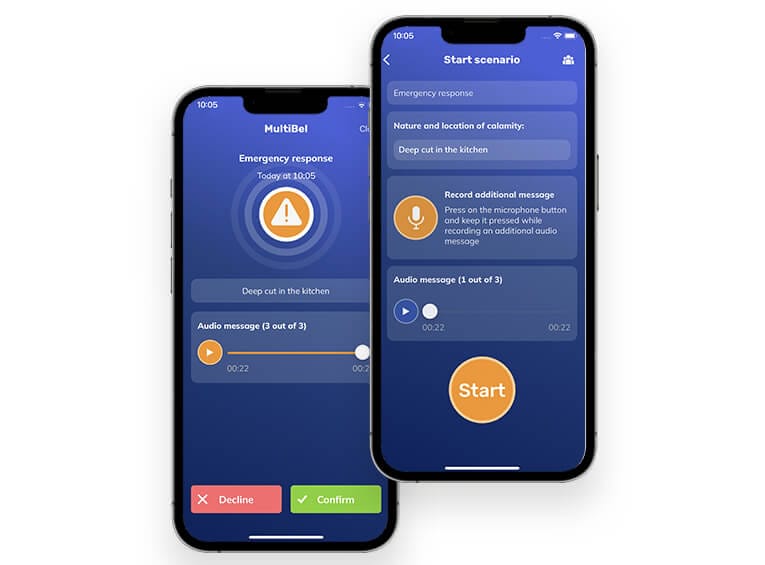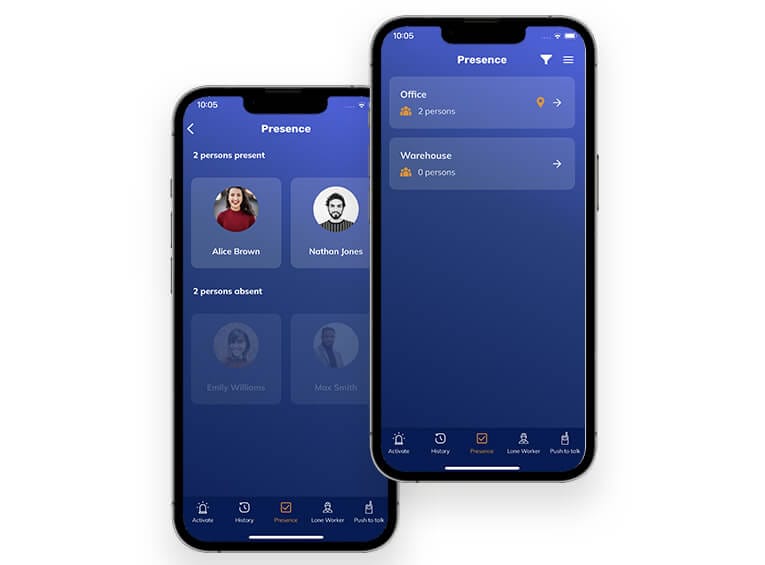 Presence registration makes emergency button much more effective
One push of a button and colleagues are alerted. But what if those colleagues need 5 minutes to get to the location? MultiBel works with presence registration that can locate people both indoors and outdoors. If someone presses the emergency button, the system knows where that person is and only those nearby are alerted. The system can also be used to monitor occupancy per location. In case of understaffing, a notification will follow immediately.
Everything has its advantages and disadvantages. Additional hardware has functional advantages. A phone can be taken away or cannot have a connection at that location with a single SIM card. On the other hand, it is expensive to equip all employees with an extra emergency button and that many people do not feel like walking around with an extra button all the time. MultiBel offers various solutions that we are happy to present to you.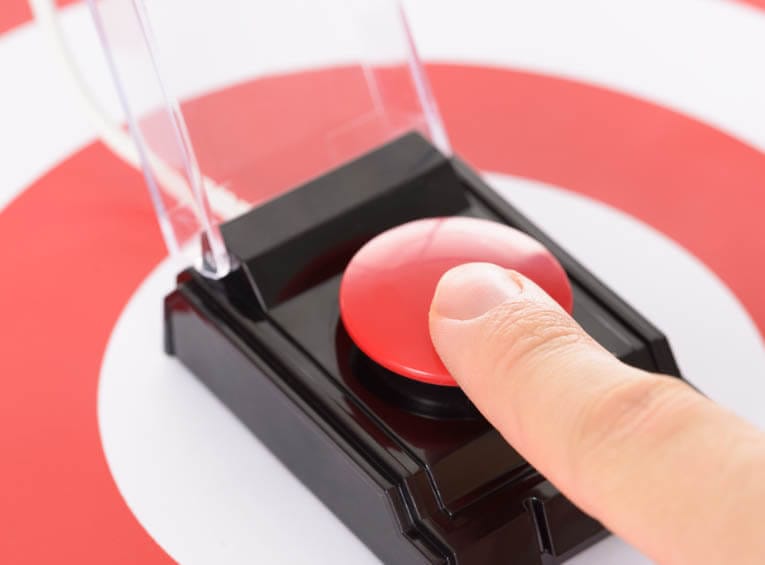 Who use the emergency button, panic button, alarm button?
Retail companies, housing corporations, municipalities, youth care, general practitioners, bailiffs, hospitals, media companies, hotels, schools, catering establishments, all users of our alarm button linked to MultiBel. As a fixed button, it is often used as a consultation room alarm to increase the safety of employees in the event of aggression. The advantage of this fixed aggression emergency button is that it can be installed wirelessly and is not sensitive to power outages. The aggression alarm button uses a multi-SIM card and chooses the strongest network itself.
MultiBel is able to send an emergency alert to ten, hundreds or even thousands of people within seconds. Our emergency button & alarm button will stop sending alerts when enough people have confirmed. One push of a button and colleagues who are nearby come to the rescue. Your employee feels supported by the knowledge that management and colleagues know what is going on. The responses of the notification can be followed in real time for persons with the correct role in the system. Tasks can also be set out in the logging module. Thanks to the quick follow-up, your emergency button saves time and your employee knows that help is on the way.
Customers have been choosing MultiBel for over 20 years because of its simplicity, reliability and technical possibilities.