Lone worker system – certified lone worker app
Lone workers are vulnerable, but it is allowed in almost all cases, provided that you as an employer take sufficient measures and facilities. MultiBel lone worker solution can supply employers with solutions for all risk classes. Our accredited lone worker app offers everything for the protection of your workers without having to buy extra hardware. Check in intervals, fall detection, motion detection, an emergency button / Panic alarm, location determination of the victim, a communication and listening connection with the victim, all elements that can be controlled by using a normal smartphone.
What makes our lone worker app special in the market? Two elements stand out. First off, our lone worker app has the (Kiwa) K21023 Mobile Security certification. With this, our lone worker app shows that it meets the standards regarding quality, reliability and security of people. The second special feature is that our lone worker app is integrated in one emergency software solution that is used for many more applications, from alerting emergency response officers in case of medical incidents to evacuations and from technical failures to the protection of lone workers. Everything is integrated in one safety system. You determine which building blocks are required for your ideal solution.
Our customers are diverse, from municipalities to industry and from home workers & offices to almost half of the Dutch hospitals.
Variants of lone worker protection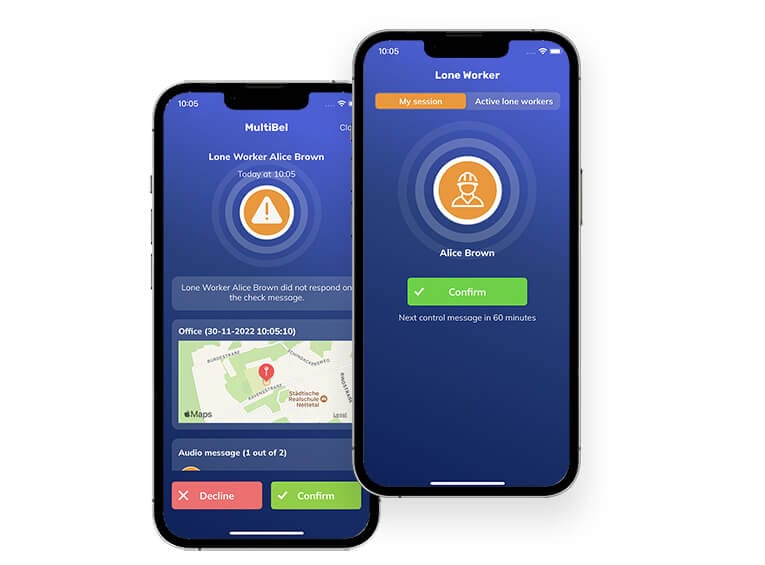 Lone worker app checks with a time interval
The Risk Inventory and Evaluation (RI&E) can determine that it is sufficient for your situation if the lone worker periodically receives an inspection message. This message is received as a push notification via the lone worker app and as a backup via a telephone connection. The interval is adjustable, just like who should be alerted. This can vary per location but also per time. If there is no response from the lone worker, a scenario is started.
Fall detection & motion detection in man down app
Our lone worker app / man down app has fall detection or motion detection similar to a lone worker device that functions as a man down device. If the sensors of the smartphone exceed a predetermined value, a lone worker alarm is sent that is including the location of the victim. The same applies if the victim does not move for a predetermined time, a so-called no-movement alarm is send.
Alarm button/ panic button for lone worker safety
If your lone workers could face aggression, our lone worker app provides the ability to discreetly send an SOS alert without further escalation. This is done via an SOS button in the app (Samsung and iOS), the emergency button on the XCover or an external Bluetooth button. The external button can be attached to e.g. the belt. Colleagues or an emergency center receive the location of that person and can listen in and/or talk.
Our lone worker app in detail
Indoor and outdoor positioning
For lone worker safety a fast response of an emergency team is essential. For this, the colleagues must know where the lone worker is located. Outside, this is relatively simple and works based on GPS with an accuracy of a few meters. GPS often does not work sufficiently indoors, certainly not in high-rise buildings. It is possible to locate with Bluetooth transmitters, but this requires additional hardware. The indoor position determination of our lone worker app works with the existing WiFi routers and can thus locate people at floor level and section level. For the last meters, we work with a very loud signal on the lone workers smartphone.
Faster help for lone workers through attendance registration
Industry, municipalities, healthcare institutions and logistics service providers are the driving force behind our lone worker app. The automatic attendance registration makes it possible to only call colleagues who are nearby and who can help immediately. You can also be alerted in the event of understaffing. If there are too few colleagues in the area, MultiBel can send a notification to those responsible. Your employee is assured that sufficient help is always nearby and does feel protected.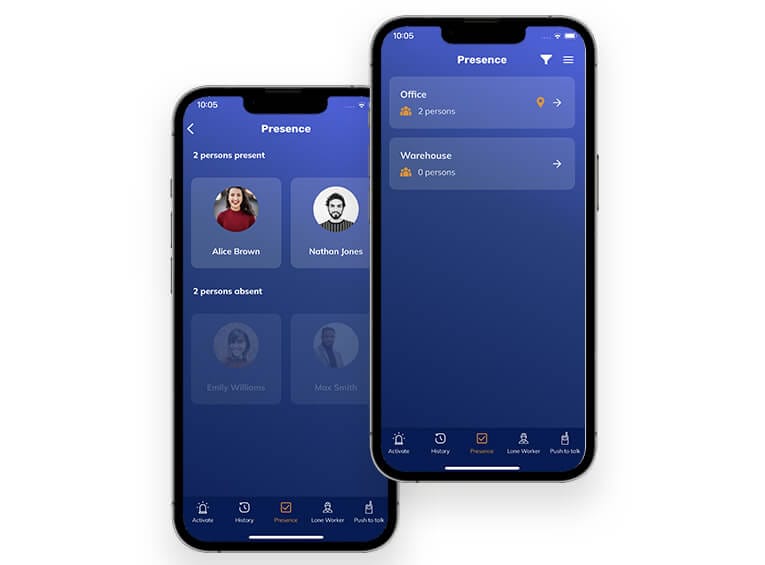 Overview of active lone workers
You can see in the lone worker app which lone workers are currently protected. In addition, it is possible to analyse usage. Based on historical data, you can see if there are any colleagues who "forget" to turn protection on in the app. This gives the opportunity to give additional instructions or, for example, choose to have the lone worker protection to start automatically.
Communication increases the safety of lone workers
MultiBel also offers a communication module with a walkie-talkie app and telephone conference call. This offers rescuers the opportunity to coordinate actions with each other in the same app, and of course again without additional hardware. All needs for lone worker protection (LWP) are controlled from the same smartphone.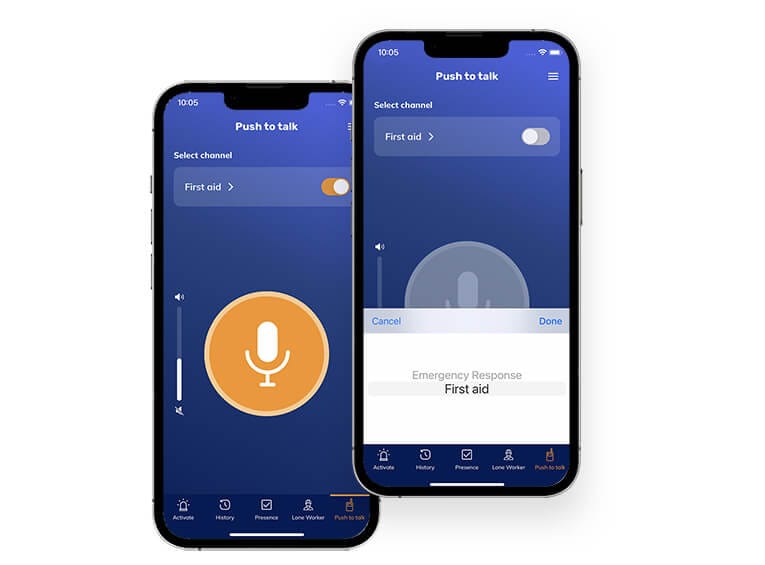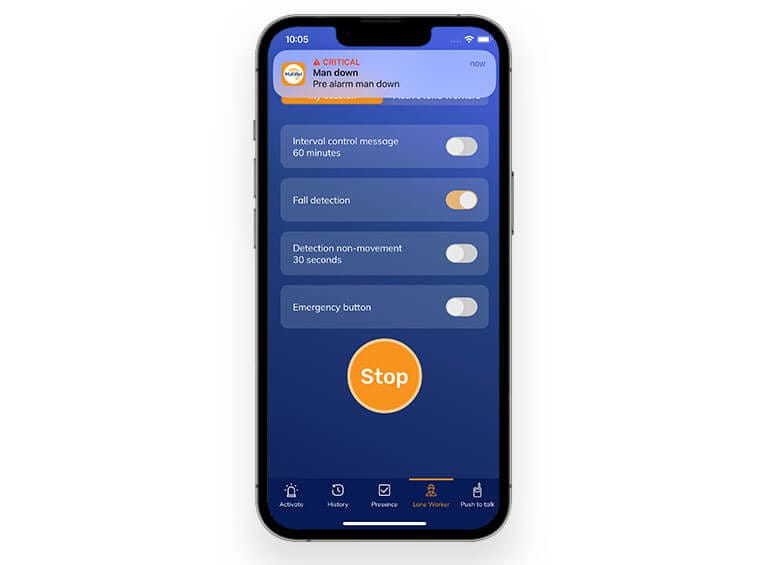 Prevent false alerts
False alarms are prevented because the lone worker has time to stop the fall detection or motion detection alarm. The MultiBel system gives a "pre-alarm" for this.
Reporting tools give insight into usage
Don't you have an overview of the usage, alerts and location of your lone workers? MultiBel offers the reporting tools you are looking for. In the portal, you can see real-time usage of the lone worker app and possibly the location of lone workers. In addition, you also have insight into real-time alerts and the history of all notifications.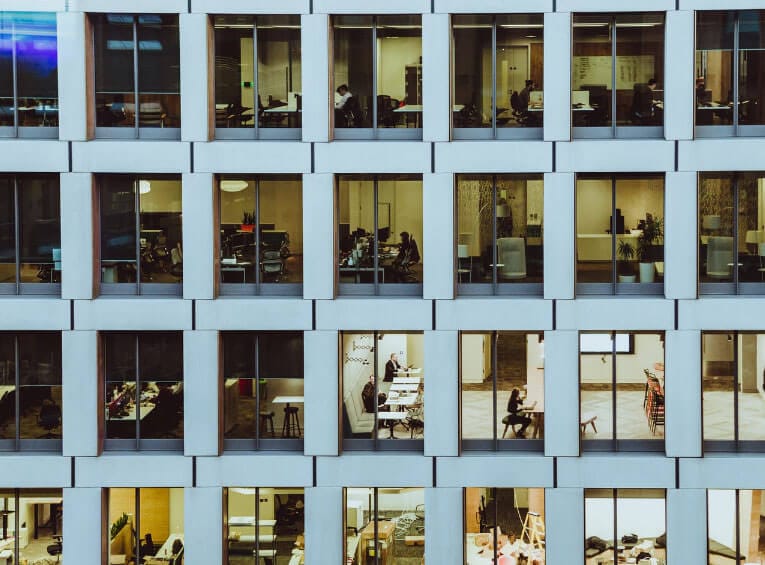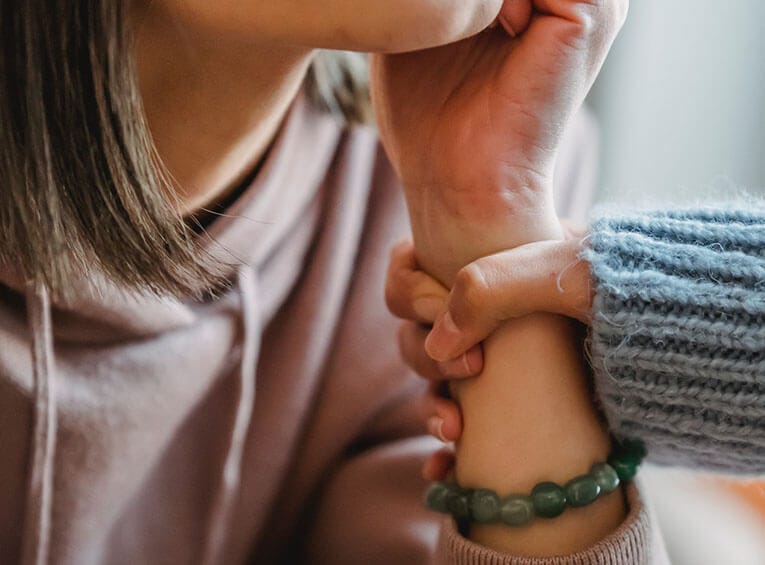 Choose what you need
Together, during implementation, we determine what security measures are needed to protect your employees. Should it be activated automatically, should an alarm center be able to listen in, is a pre-alarm required, is follow-up during office hours different from times out of office? These are all things we can set.
Lone worker protection (LWP) with five-fold certainty
Our lone worker app is part of a certified emergency notification system that uses many different channels. The way in which colleagues can be reached differs per person but also per moment. The more channels used, the greater chance that the lone worker in need will receive help quickly.
MultiBel alerts colleagues through the lone worker app, including interruption of the silent mode. If there is no response, the person will be called on a maximum of 10 telephone numbers per person, we will send an email, SMS and can also alert pagers. Until enough people have confirmed that they are responding to the colleague in need.
Choose the right package for you
Send emergency alerts for FREE with MultiBel Standard or choose MultiBel Professional.
Interested in MultiBel lone worker alarm solutions? Contact us.
Schedule an (online) appointment for free advice or a demo of our lone worker device or lone worker app.
Olivier Nieland,
Sales Consultant MultiBel

We use MultiBel for the Emergency Response Team and the Crisis Team. The system can be armed by pressing an emergency button, by activating the fire alarm, or by reporting a calamity at the reception.
The delivery of MultiBel went well. A clear explanation has been given on site and the system has been delivered in good working order. The people who are called up have independently installed the app using the manual. If necessary, the Helpdesk is easily accessible.
As a safety engineer, I can highly recommend the Multibel system, as it is suitable for a large number of areas of application. These range from the safe organization of the lone workplace, to first aid and fire protection to building services. Thanks to the flexible modular system, every company can find this across all industries individually fitting product. The users like the uncomplicated and well-functioning technology. If necessary, support from the competent and friendly staff is guaranteed at all times!
After acute problems with our old man-down alarm, I found Multibel. Due to Multibel's quick response, a new man-down system was quickly made available to me. After some further research, it turned out that Multibel offered solutions to various problems related to the existing alarm process. Flexible, user-friendly and clear are the key words that characterize Multibel.
MultiBel still meets our expectations, a good product with good support and good implementation. Elements such as the test modes indicate that the application of the product and its users has been carefully considered.
We are currently conducting a pilot with MultiBel's extensive alarm system. In our organization, reliability is very important in the field of safety. To this end, we want to offer the right care and attention in the right place in the event of calamities. So far MultiBel has been able to fulfill this wish very well. We were well guided in the preliminary phase and the support team is also available at all times for questions during this pilot phase. The accessibility is also great! That is service that makes us happy.
Our technicians are all equipped with tablets and smartphones with MultiBel, these act as a comprehensive lone worker protection system with many additional functions and our technicians are happy not to carry any additional hardware with them.
❮
❯
Mobile alarm button
We regularly link alarm buttons that organizations already use and where they want to improve the follow-up of an emergency. There are many different mobile alarm buttons on the market. They differ in price, quality, durability and mounting options. If the customers have nothing yet, the FLIC emergency button is often chosen. Read more about "our" Flic button.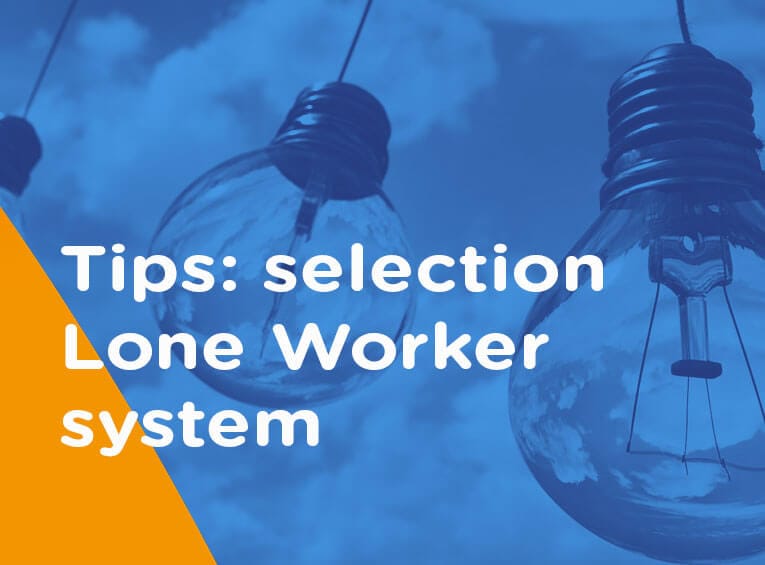 What should you pay attention to in a lone worker app?
There are various solutions on the market to improve the safety of your employees. Are you going for a system on the smartphone or for an extra hardware device? We give you 6 tips that you should take into account when purchasing a lone worker solution.
Working with a lone worker app or an extra device?
Our lone worker app offers the same security as traditional lone worker hardware, but with more functionalities, more ease of use and at a lower cost. The lone worker app has the K21023 Mobile Security certification, so you as an employer are assured that the safety of your employees is guaranteed.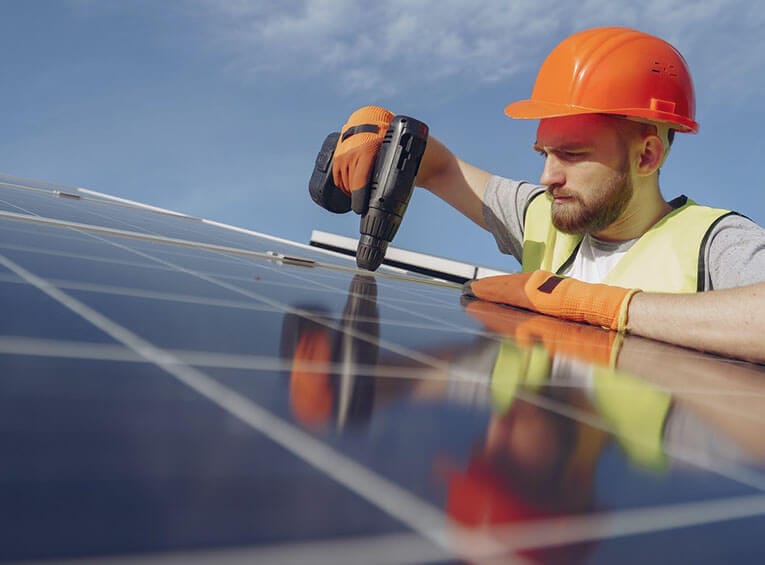 Lone worker protection & safety at work – what are the obligations?
Many people work in risky conditions and/ or in a place where they work alone. As an employer, you are responsible according to the Working Conditions Act to provide your employees with a safe workplace and to identify the risks. This can also apply to people who work alone at home. The measures you must take as an employer to ensure that your employees can sound an alarm in case of an emergency or that an alarm is triggered immediately if an employee does not move, respond or man down alarm. It is precisely at these times that a reliable lone worker alarm is of great importance for reporting incidents. The solutions we have for this are suitable for all risk classes and very reliable.
In the past, it was often relied on periodic checks by colleagues doing their rounds or additional lone worker devices. Modern technology provides more efficient shapes to ensure the safety of lone workers. If the Risk Inventory and Evaluation (RI&E) shows that a periodic check of the lone worker is sufficient then the lone worker will for receive a notification for instance every 2 hours. If there is no feedback, our lone worker app usually alerts colleague as a result no Private Alarm Central (PAC) needs to be used.
Our lone worker app recognizes when people are no longer moving or when they are falling down. Our lone worker system also offers an alarm button and sends the location of the victim in case of an emergency. Because MultiBel knows through attendance registration which emergency team members or colleagues are present at that specific location, no time is lost.
Would you rather use a Private Alarm Center than colleagues who are nearby? Per scenario or per function you determine in advance who will be alerted, who has insight into the reactions and who will have a speaking and listening connection with the victim.
Customers are increasingly opting for our lone worker app, because it does not require any investment in hardware. Apart from the extra functionalities and ease of use, it is also a much more cost-effective solution than extra lone work devices.
Lone worker at home – what are the obligations?
More and more people are working from home. That was already a trend before Corona and it will only have increased after Corona. Usually, working from home does not increase the risk, but lone working at home does. Working without supervision or sight of colleagues is working alone. This means that, according to the Working Conditions Act, there must also be measures at home to guarantee the well-being of the lone worker. In such cases, the periodic check is an accessible, user-friendly and attractively priced option to fulfill your obligations as a good employer. The lone worker also feels supported at home in case of an emergency.