SaaS Emergency evacuation system
The company Evacuation Team (containing Emergency Response Officers and or Evacuation Officers) are indispensable during an emergency evacuation. In case your employees have to evacuate the building as quickly as possible in an emergency, it is the Evacuation Team who ensure that this is done in an organized manner. MultiBel offers a smartphone-based emergency evacuation system in order to send notifications, organize internal communication, crisis logging and supply information for evaluation.
Often MultiBel is replacing the traditional pagers. Comparing to the pager system the Cloud solution from MultiBel offers more userfriendlyness, more functionalities, less maintenance and lower costs.
MultiBel is often connected to the fire alarm panel. For example, you can choose to initiate an emergency response evacuation without human intervention. Attendance registration alerts all Emergency Response Officers and or Evacuation Officers present. They can also communicate directly to each other via the app, log progress with each other, assign tasks if necessary and all information is available for evaluation afterwards.
MultiBel is the first and only complete Cloud solution that can be used as an evacuation system. Take a look at our NEN2575-4 certified silent alarm evacuation system -in Dutch-.
More than 1.000 customers use MultiBel for different applications: lone worker protection, alerting intervention teams, mobilizing mechanics in case of technical disruptions, etc. Our customers are diverse, from municipalities to healthcare institutions, and from industry to almost half of Dutch hospitals.
Why use MultiBel as evacuation alert system?
Much more than an evacuation app
MultiBel is an certified alerting system with an unique method. Multiple data centers are used, more than 1,000 organizations rely on MultiBel to quickly handle an emergency response evacuation. We guarantee an availability of 99.95% and are the only Cloud solution in Europe that can also be Kiwa certified as an evacuation system for hospitals and healthcare institutions. The non-certified emergency response evacuation solutions also benefit from the reliability, the user-friendliness and the specific functionalities.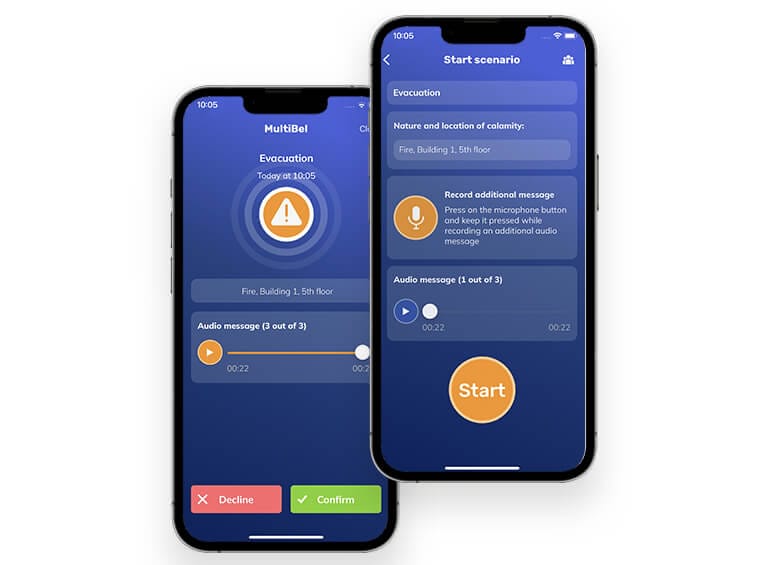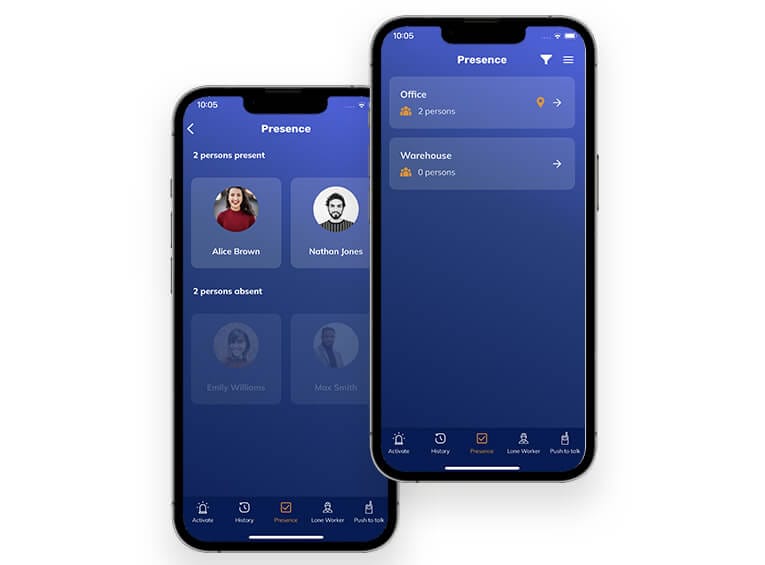 Presence registration and being understaffed
Sufficient members of the Evacuation Team are required to ensure an evacuation is done properly. But are there always enough members available? And what if it turns out later that this was not the case? With MultiBel you have automatic attendance registration, so you can only notify those people who can actually help with the evacuation. If there are not enough, you will be warned.
Communication during an evacuation
Fast communication is essential to manage the emergency evacuation. To support the communication MultiBel offers a push-to-talk  function in the app. This works just like a normal walkie-talkie, but without an extra device. In addition, pre-selected persons can be placed in a telephone conference call.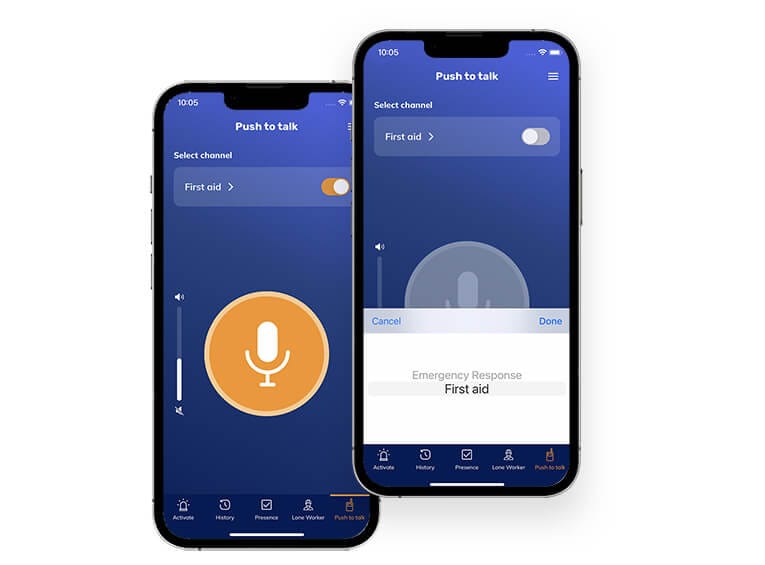 Who is capturing information during the evacuation?
With our logging module you are able to keep an overview over who is working on what and which tasks have been carried out. You are also able to share photos and videos. During the evaluation phase you can use all information available in the log-files.
Evacuation system with five-fold certainty
Instructions for an emergency evacuation are with MultiBel send through many different channels. Using more channels increases the chances that people are reached.
MultiBel uses an iOS and Android app, which breaks through the silent mode, for sending notifications in case of an emergency evacuation. If there is no response, you will be called on a maximum of 10 telephone numbers per person, we will send an email, SMS and we can also alert the old pagers. In addition, we are able to control other channels such as a siren, sound system, signal lamp, matrix board or other types of attention panels.
Choose the right package for you
Send alerts for FREE with MultiBel Standard or choose MultiBel Professional.
Would you like to know more about our emergency evacuation system?
Schedule an appointment for free advice about our emergency notification solutions.
Olivier Nieland,
Sales Consultant MultiBel

The reliability is higher than the pager system.
Notifications from the Fire Alarm Panel are automatically forwarded to the Emergency Response Officers.
Since February 2019 we have been using the Multibel app at Efectis. In addition to a manual alarm via a tablet at the reception, we also opted for automatic alarm in the event of a fire and the use of the emergency buttons in our fire lab via the IP detector. We have defined different groups in Multibel (first aid, first aid, breathing apparatus and crisis team), so that we can call on the right people at any time.
We recently switched to MultiBel and this to our complete satisfaction!
MultiBel is a very clear and user-friendly system. It was actually clear to me very quickly how the system works and how it should be set up.
MultiBel still meets our expectations, a good product with good support and good implementation. Elements such as the test modes indicate that the application of the product and its users has been carefully considered.
I know MultiBel as a great application that can be used to quickly alert the first responders in the company. It is also really good that in the event of an alarm, the available information about the person is spoken and then also sent directly. MultiBel offers a very practical solution that is really recommended!
Excellent and reliable calling system. company with good service and adequate support.
As a safety engineer, I can highly recommend the Multibel system because it is suitable for a variety of application areas. These range from the safe organization of the sole workstation, to first aid and fire protection, right through to house technology. Thanks to the flexible modular system, every company can find it across industries individually fitting product. The users like the uncomplicated and well-functioning technology. If necessary, support from the competent and friendly staff is guaranteed at all times!
Multibel provides a service that can not be compared to the current old-fashioned call systems with pagers. Because the fire panel is linked to the app, the employees can be alerted much more quickly. Multibel is essential for safety in our healthcare institution.
Simple, fast and safe alarm solution! The alarm app works really well.
The MultiBel system is very flexible and can be used individually for various purposes or in a wide variety of industries. Commissioning and cooperation with the service provider work smoothly and reliably. Conclusion: an absolute added value for every company or institution.
We inquired at various municipalities and MultiBel was mentioned there. In addition, your solution is quickly deployable and with a SAAS solution we can also set up a lot ourselves, which certainly appealed to me. In addition, it also just works very well.
The advantage of a smartphone solution compared to a traditional pager system to find the right person is countless. An inspection often showed that pagers were not used, were lost or were broken. You always have the smartphone solution from MultiBel with you. Moreover, you are not dependent on one transmitter and with this Cloud solution a much higher availability of the system is realized than with a traditional system.
At one point we only had 6 or 7 pagers and we now have 34 smartphones. That's a huge fire safety upgrade.
The new wireless silent alarm system is a real relief for us in our daily work. No more hassle with multiple devices and therefore more focus on what really matters to us: a safe home for our residents.
MultiBel is a professional software supplier, with short communication lines that makes it possible to act quick. Their evacuation alarm solution perfectly matched our needs and could easily be set up and adapted to our requirements and wishes. They continuously think along in solutions and have all the expertise in-house to quickly implement desired adjustments. As a result, we were able to implement the system in a short time and get it successfully certified.
Thanks to a number of built-in controls, the app is much more reliable than the pagers we used before. The new solution provides more certainty that our company emergency organization can act quickly.
It will soon be a very big advantage if the evacuation system is linked to the nurse call system and the emergency response team. You can mobilize everyone much faster. With a cloud solution it is easy that you no longer have pagers, no more walkie-talkies and that you have no necesity to controls this additional hardware.
The system is NEN 2575-4 and ISO'IEC 27001 certified and therefore offers real opportunities in various places where speed and a reliable system are essential if something goes wrong. Think of hospitals, municipalities or industry.
❮
❯
What makes our emergency response evacuation app different?
More than 20 years ago we started with a call system for hospitals. Since then, nine out of ten new functionalities have been developed based on request from our customers. When we build what our customers want, everyone is happy. Specific functionalities are required for an emergency response evacuation, e.g. to record or type specific instructions when an alarm is started.
The voice instructions are of great importance to start an emergency response team quickly. Speech delivers a stronger message than text alone. Speech is often taken more seriously, especially if it is a familiar voice that is recording the message. There is a high degree of stress during an evacuation. That is why it is very important that you are as direct as possible when recording the message. So keep your messages simple and short:
What is going on?
What are the consequences?
What is expected of the recipient?
MultiBel's real-time reporting tool enables you to make adjustments where necessary. There may not be enough emergency response officers at that location and the call must be escalated. Or, as the head of the emergency response team, you want to send new instructions to the people who are busy with the evacuation.