Municipality of Brunssum
Hub Stoffels.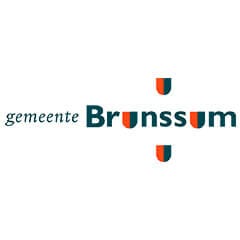 The Municipality of Brunssum consists of the city of Brunssum and the districts of Rumpen, Treebeek, Bouwberg and De Kling. The municipality is located in the southeast of Dutch Limburg. The municipality had 27,709 inhabitants on August 1, 2020 (source: CBS) and has an area of 17.30 km².
MultiBel at the Municipality of Brunssum
Before the introduction of MultiBel, the members of the intervention team at the municipality of Brunssum were informed by using the public broadcasting system. The result was that everyone, including the person causing the nuisance, could hear the call. MultiBel is now equipped with emergency buttons at the reception, Civil Affairs desk counters and consultation rooms. These notifications are sent to the intervention team members present via MultiBel.
Why did you choose MultiBel?
MultiBel was our preferred system, after we had been able to see an extensive demo with the opportunity to discuss our situation in detail with the account manager of MultiBel. Our choice was made quickly, especially after we compared the quotation with that of a few competitors.
Did the implementation process go according to plan and are you satisfied with MultiBel's support?
The implementation process went well and still, after having used MultiBel for a some months, we are in regular contact and we are very well guided and kept informed of the new possibilities that MultiBel offers us.
Do you use the attendance registration?
We have made great use of this, in this way we can ensure that there are always enough members of the intervention team on site.
How often do you practice with MultiBel?
The intention is to practice monthly, but unfortunately Corona has made it more difficult. We assume that we will be able to practice monthly in the future.
How would you describe the user-friendliness of MultiBel?
MultiBel is very user-friendly and if you log in with some regularity, without calamities occurring, you can set up the system more and more according to your own wishes and get enough information from it.
Have you ever had to use MultiBel "really"? What went right/wrong?
Fortunately, until now, it has remained with unnecessary alarms, where a few things did go wrong. In collaboration with MultiBel, we were able to make an some improvements. MultiBel provides excellent guidance.
On a scale of 5 Stars. How many stars would you give MultiBel?
We currently give MultiBel 4 stars.
Would you like to add anything else?
If a potential new customer is looking for a reference address to obtain information, they may contact the municipality of Brunssum. We are very satisfied with Multibel and the support provided so far.
MultiBel is used for:
MultiBel is used by the Municipality of Brunssum to alert the intervention team by when an emergency buttons at the reception and consultation rooms is pressed.